Tuesday, January 24, 2023
In the legislative sessions spanning January 1, 2021, through May 20, 2022, state legislators introduced 1,531 bills to change the scope and allocation of emergency health authority, according to new data released today by the Center for Public Health Law Research at Temple University's Beasley School of Law.
Of those 1531 bills, 191 (about 12.5%) were enacted into law in 43 states and the District of Columbia, including seven via veto override.
"These data provide a powerful, initial look at the authority state and local officials will have — and the political headwinds they will face — as they manage major threats to public health in the future," said Elizabeth Platt, Director of Research and Operations at the Center and lead researcher on this project.
The data were created in collaboration with the Association of State and Territorial Health Officials and the Network for Public Health Law, using scientific legal mapping techniques pioneered by the Center.
The datasets capture details of legislation that addresses emergency health authority introduced between January 1, 2021, and May 20, 2022, in all 50 US states and the District of Columbia. These are bills that may strengthen authority, limit authority, or change the nature of who has authority to act during a public health emergency.
The data show that the most common type of bill enacted (163 of the total 191 bills enacted) were those that regulated the use of specific disease control measures, including vaccination requirements and mask mandates.
Sixty-five laws were enacted in 25 states limiting emergency authority, while 17 laws were enacted in 12 states to strengthen public health.
The data also show: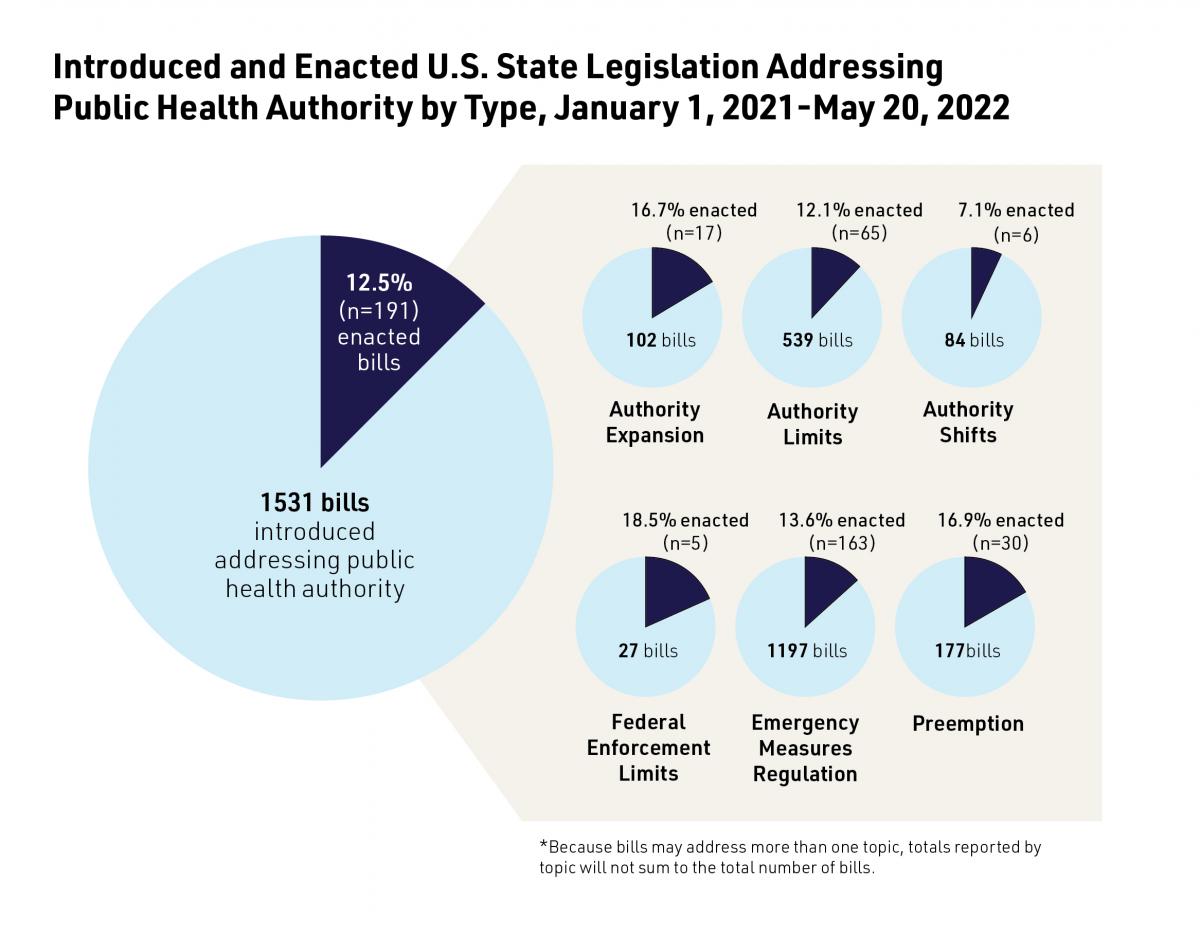 The datasets are published to the Center's website, LawAtlas.org, where they may be explored using interactive maps and tables or downloaded as .csv files.
The researchers will join a webinar on January 26 at 1 p.m. to discuss the data and examples from select states. More detailed analysis will be published in the American Journal of Public Health later in the spring 2023. Sign up for the Act for Public Health mailing list to be notified when the analysis is available.
The data are among the resources being developed by the Center and others as part of the Act for Public Health initiative, which provides direct support to public health departments and others through consultation, training, legal technical assistance, research, and resources to address legislation that weakens their ability to protect the communities they serve. Act for Public Health is a partnership that includes ChangeLab Solutions, the Public Health Law Center, the Network for Public Health Law, and Public Health Law Watch.
Contact:
Bethany Saxon
Center for Public Health Law Research, Temple University
bethany.saxon@temple.edu
Tel. 215-204-2134