Today's National Public Health Week focus is on violence prevention. National data show gun-related deaths are on the rise: in 2020, the U.S. was home to 19,384 homicides and 24,292 suicides involving guns. Those numbers are the highest documented levels in a decade. Gun violence is now the leading cause of death for US children and firearms are the most common weapon used in intimate partner homicides. 
Recent research by CPHLR has touched on the ways we regulate guns, and the ripple effects of those policies (or the lack thereof).  
The data show that 45 states have a law that expressly preempts local firearm regulation, and 10 states have case law that preempts local firearm regulation (nine states have both), as of November 1, 2022.  
Since 2021, Alabama and New Hampshire added language to their laws explicitly prohibiting political subdivisions from enforcing federal firearm restrictions.; Utah added the ability for individuals to bring a civil action against the municipality if they felt a local jurisdiction had violated their rights by violating the state's firearm preemption law (i.e., passing a local firearms law). 
It is in this climate that we statistics that each month, an average of 70 women are killed by their partners using a firearm, and a woman is five times more likely to be killed when an abuser has access to a firearm. CPHLR Deputy Director Lindsay Cloud published an article in the Journal of Interpersonal Violence that uses the scientific legal mapping technique of policy surveillance to create legal data by systematically collecting and coding laws that authorize or require courts to prohibit offenders subject to domestic violence restraining orders (DVROs) and temporary restraining orders (TROs) from purchasing and possessing firearms ("firearm prohibitor" laws).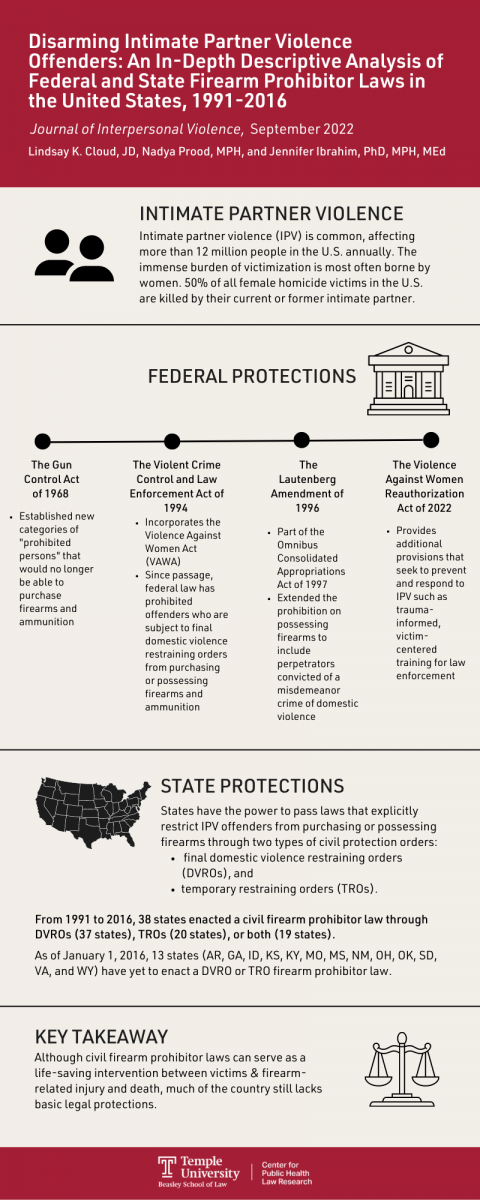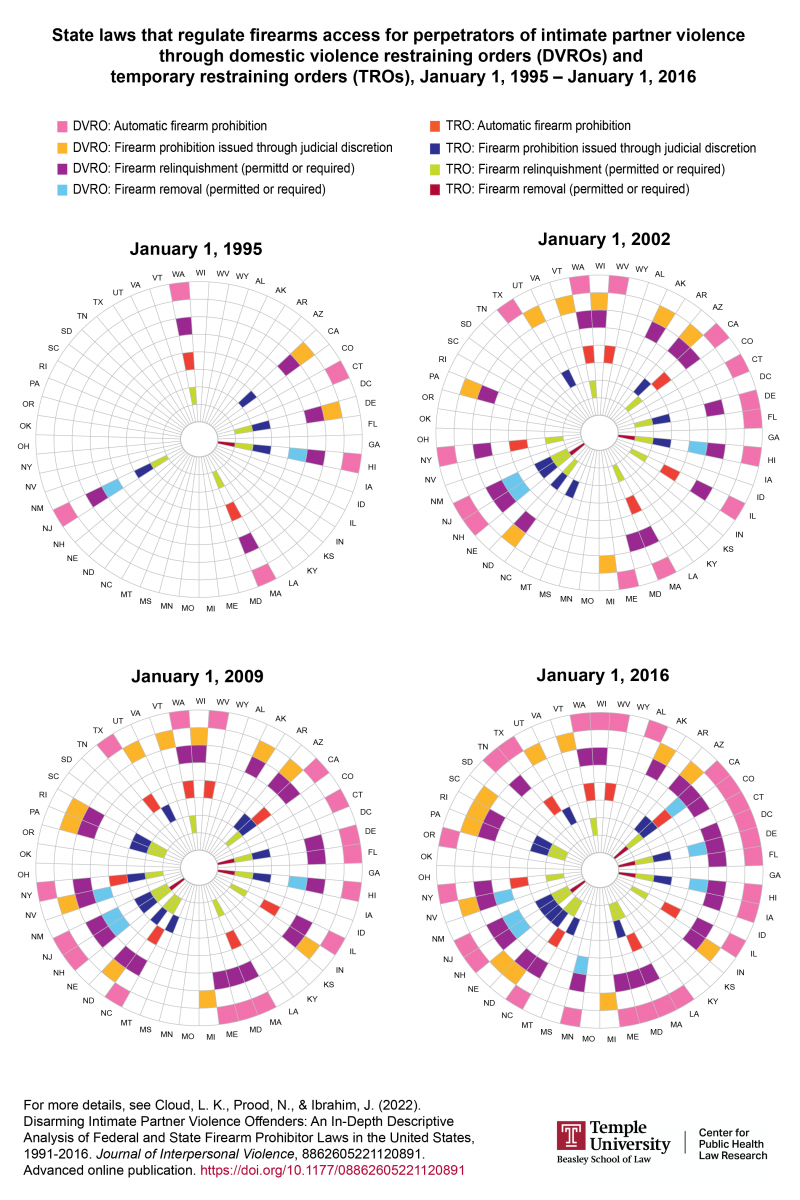 These data measure key provisions of federal and state laws from 1991 to 2016, including whether the law includes a firearm prohibition, who qualifies as an intimate partner, notice and hearing requirements, whether the prohibition occurs automatically or through judicial discretion, and if the law permits or requires the relinquishment or removal of firearms. 
From 1991 to 2016, 38 states enacted a civil firearm prohibitor law through DVROs (37 states), TROs (20 states), or both (19 states). 
This research is only the start. In the future, more scientific legal mapping projects can show how the current laws impact public health. Legal epidemiology generates data and evidence that can inform policy initiatives in order to advance health, well-being, and equity. Legal epidemiology methods may be applied to violence prevention laws or policies to ensure the public's highest health and well-being.
Read Lindsay's discussion on this data with Temple University's College of Public Health, available now.