Today's National Public Health Week focus is on reproductive and sexual health. At CPHLR, much of our work has focused on understanding the extent and impact of statutes, regulations, and case law related to reproductive rights, like access to abortion and contraception. Read on to learn more about our projects! 
Abortion Law Project
The Center currently has the largest suite of data on state abortion laws available on LawAtlas.org. This State Abortion Laws dataset provides a general overview of these 16 regulatory areas within each state and includes laws in effect from December 1, 2018 through November 1, 2022. The Abortion Law Project includes a comprehensive suite of data covering 16 variations of abortion regulations: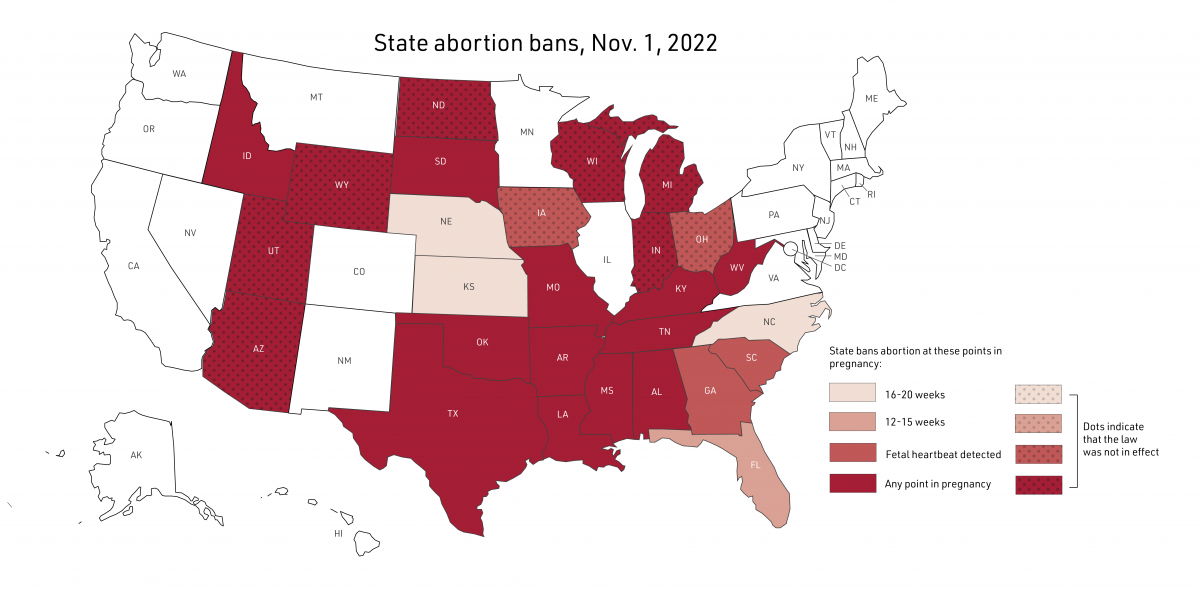 States have increasingly targeted medication abortion by prohibiting the mailing of abortion-inducing drugs, mandating report filing, mandating counseling on so-called "medication abortion reversal," pre-abortion testing requirements, and prohibiting the use of telehealth. In contrast, the FDA has recently lifted certain REMS restrictions on mifepristone, potentially paving the way for more accessible medication abortion.     
Additionally, the data now include information on fetal burial requirements, which have been enacted in 10 states to mandate requirements related to the burial or cremation of aborted fetal tissue. These laws impose on patients and providers and implicate concepts of "fetal personhood."
The project was created by the Center for Public Health Law Research in collaboration with subject matter experts from Resources for Abortion Delivery (RAD), Guttmacher Institute, American Civil Liberties Union (ACLU), Center for Reproductive Rights (CRR), National Abortion Federation (NAF), and Planned Parenthood Federation of America (PPFA). 
Post-Dobbs State Abortion Restrictions and Protections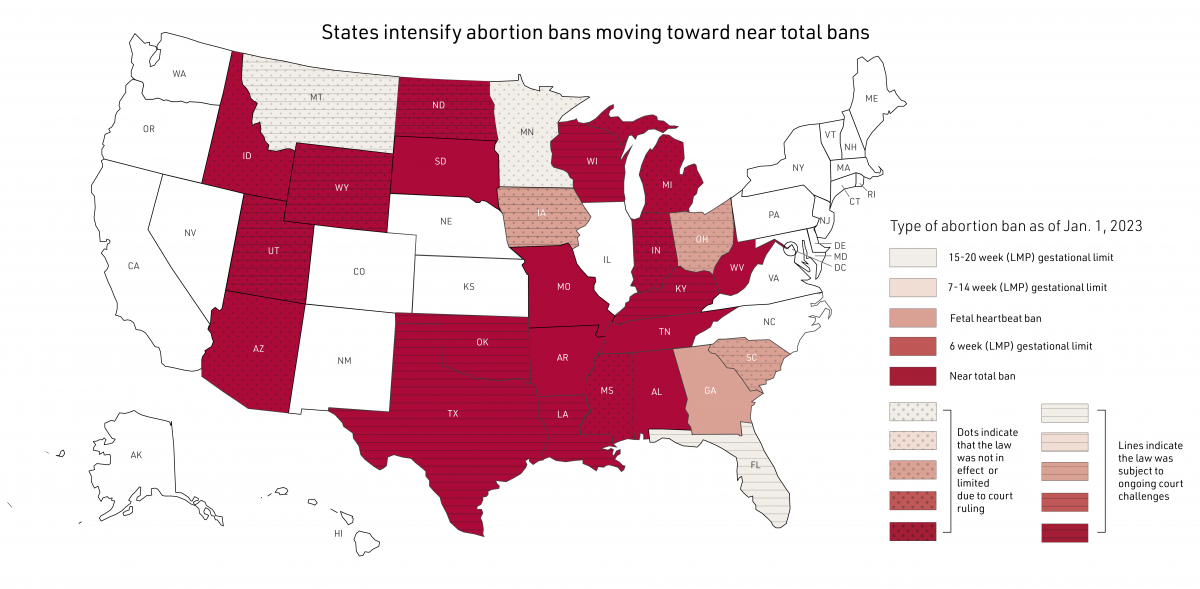 In the six months after the Supreme Court's decision to overturn Dobbs v. Jackson Women's Health Organization on June 24, 2022, 23 states enacted severe restrictions on abortion, and nearly a third were enforcing these bans as legal battles continue to unfold. To limit the impact of the decision, more states directed their legislative efforts to protect access to abortion, according to the data capturing the policy landscape through January 1, 2023.  
Nineteen states have near-total bans on abortion, which only include limited exceptions for life endangerment, severe health risk, rape, and/or incest. Nine of those states' bans are subject to ongoing legal challenges as of January 1, 2023. Narrow exceptions in the law offer little protection for providers and patients, who bear the burden of proof and may be required to report incidents of rape to law enforcement in order to qualify. 
There were some measures by jurisdictions that protected abortion care and rights. Explore the full dataset for those details.
This dataset as conceptualized by the Center for Public Health Law Research and the Society of Family Planning to serve as a resource for researchers seeking to better understand the impact of the Dobbs decision, and is a companion resource to the Society of Family Planning's #WeCount project.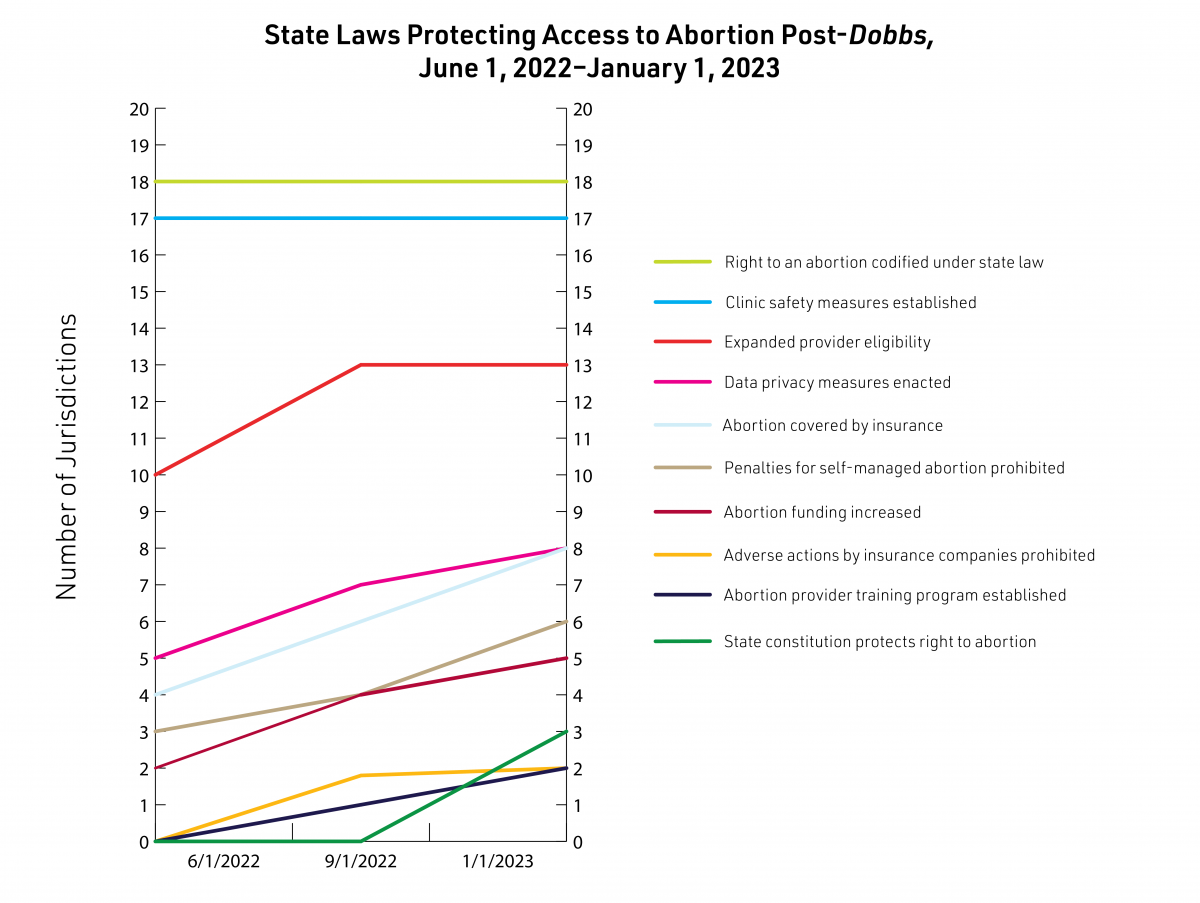 Global Self-Managed Abortion
The Center also has a wide variety of resources in relation to self-managed abortion. One of the available datasets on LawAtlas.org looks at global abortion laws developed by CPHLR Fellow, Patty Skuster. This dataset displays key features of abortion laws as they relate to self-managed abortion in 180 countries and 40 sub-national jurisdiction, including in Australia and Mexico, all in effect as of June 1, 2019. 
Skuster also worked with CPHLR, the O'Neill Institute for National and Global Health Law at Georgetown University Law Center, Ibis Reproductive Health, and If/When/How Lawyering for Reproductive Justice to develop a four-part webinar series on self-managed abortion. The series explored the interplay between empirical evidence on the safety and efficacy of self-managed abortion and laws, policies, and their application. It brought together empirical researchers and legal experts to explore the state of the evidence, the state of the law, and relationships between the two in the context of self-managed medication abortion in the United States and around the world.
IDEAL: Pioneering New Research Practices for Tracking Abortion
An international team of researchers including Adrienne Ghorashi, Scott Burris, and Lindsay Cloud, developed and used a novel research method for locating evidence on the health effects of abortion regulations in existing research that does not explicitly focus on law. The process, called The Identifying Data for the Empirical Assessment of Law (IDEAL) method, allows researchers and policymakers to make better-informed assessments and produce stronger guidance related to the effects of abortion law, while also identifying gaps in scientific research. Using the method, causal logic models provide plausible pathways from implementation to outcomes.  
Read the full paper published on BMJ Global Health.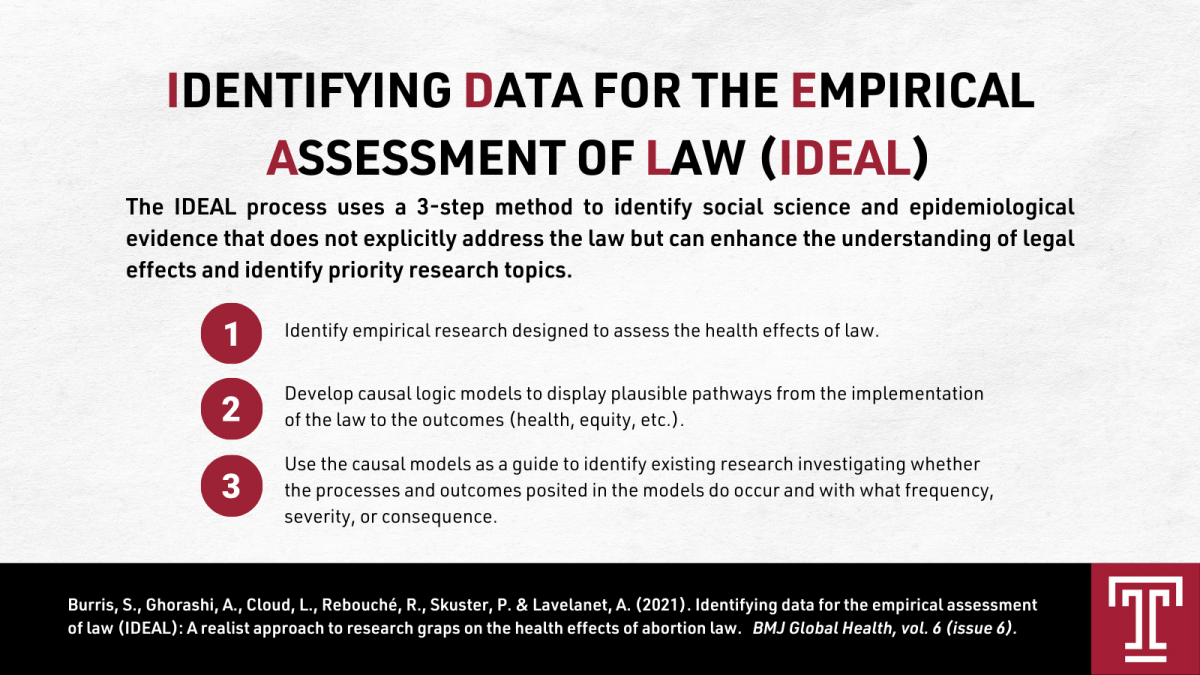 Recent articles from Temple Beasley School of Law Dean and CPHLR Research Fellow Rachel Rebouché: