Date:
Friday, December 16, 2022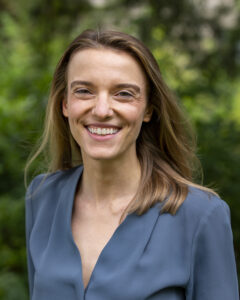 Hilary Wething, PhD, is an assistant professor of public policy and a Jackman-McCourtney Early Career Professor at Penn State University. Her research examines the relationship between economic volatility and labor market policy, household decision-making, and social safety-net programs.
Dr. Wething's research published in the Journal of Public Health Policy investigates the impact of the generosity, inclusion, and autonomy of state-paid sick leave laws on influenza-like-illness (ILI) rates and its components using data from the Centers for Disease Control and CPHLR's data on state-level paid sick leave statues.
We asked Dr. Wething a few questions about her work.
What did you find in your research?
HW: I found that more comprehensive state-level paid sick leave policies had two times lower rates of sickness relative to states without a paid sick leave policy. In particular, states with policies with more generous leave time accrual rates and that included a wide variety of worker types, such as temporary, part-time, and students, had lower influenza-like illness rates, relative to states with less comprehensive policies.
What was the most surprising thing you uncovered as you did your analysis?
HW: I had thought that paid sick leave policies that allowed workers to utilize their paid sick leave for a wider variety of medical reasons would have lower ILI rates, relative to states with less comprehensive policies, but the data didn't show that. I think this is because, in practice, people may go to the doctor for multiple purposes. For example, it's common to receive a flu shot – a preventative measure – at the end of a previously scheduled routine medical appointment. These are technically different medical reasons, but the number of times an individual goes to the doctor hasn't changed.
How did policy surveillance methods support your work?
HW: Policy surveillance work was instrumental in providing detailed, state-level policy design information for each paid sick leave policy. This work allowed me to compare policy designs across states and provide a more holistic examination of the relationship between paid sick leave laws, influenza-like-illness rates and healthcare utilization. Not all policy designs are created equal, and this dataset allowed me to not just show the differences by state but show how different designs have real-world impacts.
Your research looks specifically at laws from 2011-2019 with an analysis of how the COVID-19 pandemic impacted these laws. What major changes, if any, did you see in the policies because of COVID-19? Did places change their laws to reflect the needs of their populations during the pandemic?
HW: Surprisingly, there weren't many changes to paid sick leave laws in response to COVID-19. At the onset of the pandemic, Congress authorized federal emergency sick leave through the Families First Coronavirus Response Act. Families First sick leave was estimated to have helped prevent roughly 400 cases per day in states that didn't previously guarantee sick leave to their workers. Unfortunately, the tax credits used to incentivize employers to provide paid sick leave expired in September of 2021 and no federal paid sick leave policy has passed since.
How can this research help inform policymaking decisions going forward?
HW: My hope is that this research provides important context to state and federal policymakers interested in designing paid sick leave laws to maximize the health of their communities.
Where should research in this area (including yours!) go from here?
HW: I hope to see more research on policy design. States are often heralded as the nation's "laboratories of democracy."  Assessments of state policy design can help policymakers identify the most effective policy design for policies like paid sick leave, paid family leave, and others.